Beverly Hills Criminal Defense Lawyer
Beverly Hills Criminal Defense Attorney Max Gorby has more than 19 years of experience defending individuals against criminal charges that originate from the Beverly Hills Superior Courthouse.  If you have been arrested in the Beverly Hills area, you will need a lawyer who has experience in dealing with the Beverly Hills Police Department, the Beverly Hills branch of the Los Angeles District Attorney's Office, and the Beverly Hills City Prosecutor's Office.  Criminal Defense Attorney Max Gorby has been successful in contacting these agencies before going to court in an effort to have your criminal charges dismissed before the initial court date.
Call Beverly Hills Criminal Defense Attorney Max Gorby (323) 477-2819
You are innocent unless proven guilty and the burden of proving your guilt rests entirely upon the Los Angeles County District Attorney's Office in the Beverly Hills Branch.  It may be possible to reduce the charges against you to a lesser offense or otherwise negotiate an alternative resolution to your case.  I can help answer some of the questions you may have regarding your case, such as:
Did the police violate my constitutional rights?
What are the next steps in the legal process?
What are the chances of accomplishing a reduction in the charges?
Is it possible to be incarcerated for my alleged offense?
Are there any alternative programs to avoid possible incarceration?
When you are looking for a lawyer, you need aggressive and experienced counsel to successfully defend your rights.  I have handled countless criminal cases in the Beverly Hills Superior Court.  When you are facing criminal charges, don't risk your liberty and future.
Call Beverly Hills Criminal Defense Attorney Max Gorby at (323) 477-2819
Call For A Free Consultation 
(323) 477-2819
Beverly Hills Courthouse
9355 Burton Way
Beverly Hills, CA 90210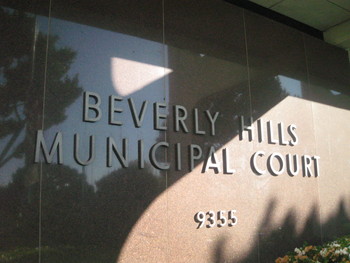 BEVERLY HILLS HISTORY
Today, Beverly Hills is a 5.7 square mile city with 34,000 residents and a daytime population of more than 200,000. The ties to the entertainment industry remain strong. The city's 900 retailers serve as emporiums to the stars, many celebrities and industry giants live here and powerhouses such as William Morris, Endeavor Agency, United Talent Agency, Merv Griffin Entertainment and the Academy of Motion Picture Arts and Sciences all call Beverly Hills home. Since 1974 and with more than 30,000 square feet of red carpet, The Beverly Hilton has welcomed celebrities and Hollywood's elite to the annual Golden Globe Awards, held in its famed International Ballroom. Stargazing is a national past-time in this town – see for yourself during a day of shopping in our luxury boutiques or a meal at any one of our acclaimed restaurants.
The first law enforcement agency was formed shortly after the City of Beverly Hills was incorporated in 1914. The first city marshal was Augustus Niestrum with a deputy named Jack Munson whose home also served as the headquarters for both the city's Fire and Police Departments. A year later the department was expanded with addition of an another officer. Two further officers joined in 1916. When Deputy Munson retired in 1919, the new City Marshal served as both Fire and Police Chief. After eight years in combined quarters, the Fire and Police Departments were separated in 1925.  On August 1, 1927, the Beverly Hills Police Department became a municipal organization. Blair was reelected becoming its first Chief of Police. Blair was in charge of one captain, three lieutenants, four sergeants, four motor officers, twenty-three patrolmen and three clerks. The Beverly Hills Police Department moved to the city Hall in 1932. This remained its headquarters until 1990 when it moved to a new purpose-built police facility on Rexford Drive, Beverly Hills.
Beverly Hills is located in the middle of Los Angeles County, surrounded by the cities of Los Angeles, West Hollywood, Santa Monica and Culver City. Within its 5.7 square mile radius, Beverly Hills has approximately 34,000 residents with a business and commercial base that ranks next to cities with a population of several hundred thousand.  The daytime population is estimated to be 150,000 to 200,000. As a full-service community, police, fire, water treatment, refuse collection and building inspections, among other services, are provided directly by the City. Beverly Hills has its own school district with a reputation for some of the best schools in the nation.  The address of City Hall is 455 N. Rexford Dr., Beverly Hills, CA 90210. The main phone number is (310) 285-1000.
Beverly Hills Police Department
464 N. Rexford Dr.
Beverly Hills, California 90210
Hours: M-Th 7:30-5:30; F 8am-5pm
Beverly Hills Dispatch Center 310-550-4951
There are currently two people on the beverly hills most wanted list:
Alem Messaye is currently a fugitive and wanted for two counts of Carjacking and one count of Armed Robbery.
Errol Sison is currently a fugitive and wanted for one count of murder.
The Beverly Hills Police Department (BHPD) offers a court commitment "Pay to Stay" program.  The program offers individuals an alternative to serving time in a county jail facility. With the approval of the sentencing Court, a jail sentence can be served in the safe, clean, and secure environment of the Beverly Hills Police Department's Jail facility.
The following conditions are required to become eligible for the Pay to Stay program:
Any sentenced individual who meets all of the following criteria is eligible to participate in the "Pay to Stay" program:
1.      Has the approval of the sentencing Court to serve their jail time in a municipal facility in Los Angeles County;
2.      Is able to provide proof of good health and has no infectious disease;
3.      Is able to provide proof of valid medical insurance which must remain in effect for the duration of the scheduled incarceration.
4.      Meets the booking and housing requirements for the BHPD Jail.